【MNP】Globalsim4G UK,US,CAN ,AUS , TW ,HK 4G Data + Voice Card
The below packages are specially designed for Hong Kong people living/studying abroad
In UK ,US CA.HK, AU,TW you can use Hong Kong numbers, receive calls, receive free text messages, make Hong Kong calls, and you can keep the Hong Kong numbers to Mobile Number Portability/apply for a new Hong Kong number
Apply New Hong Kong Number:30HKD
Mobile Number Portability(MNP) Fee:50HKD
No additional tunnel tolls/administrative fees, no need to sign any contract, can be transferred at any time
Postpaid number: ID COPY who registrant the number when postpaid is required, and can be applied 90 days before the original package
Prepaid number: No need to provide any information, just need the original SIM card to have a stored value of 2HKD/ or more.
。
The above number porting can be completed within 5 working days from the application and payment date. If it is the number have contract, please pay attention to the expiration date of the original contract date and you can make an appointment in advance.
Mobile Number Portability(MNP) Fee:50HKD
Note: Before applying, please clearly understand whether the number transferred to the port you ported is legally owned by the applicant. After applying for port porting, if there is any problem with the ported number, the handling fee will not be refunded.
Note: This plan local call will be higher than (HK&UK use only)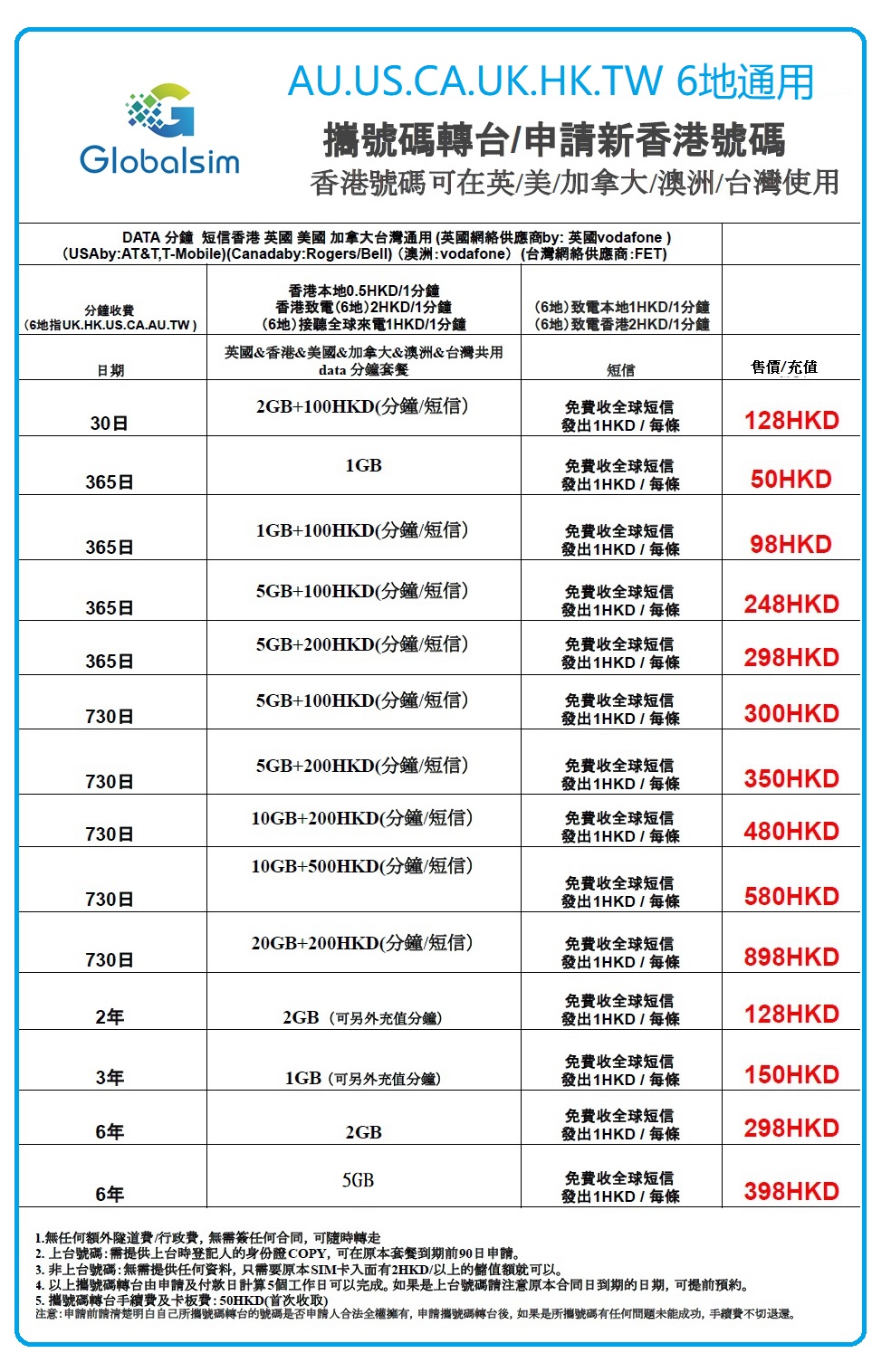 如有任何查詢請:Whatsapp:+852 64696649
Whatsapp:+447488888793
Mongkok Shop
Unit No.01A, 14/F, President Comm Ctr 608 Nathan RD
Opening hours: Monday to Sunday 12:00 - 21:00 (Open on holidays)

Causeway Bay Shop
Shop 601, 6/F, Radio City, 505 Hennessy Road, Causeway Bay
Opening hours: Monday to Sunday 12:00 - 21:00 (Open on public holidays)